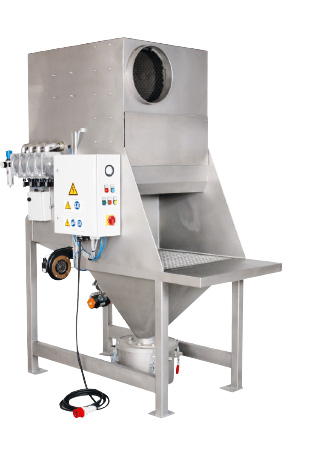 Bag unloading station with whirl-type suction hood and integrated filter system
This combination of charging hopper with whirl-type suction hood and integrated filter system was developed specifically for emptying fine-particulate products from bags.
The dusts released to the air during the emptying procedure are recovered at the site where they originate. Owing to the intelligent position of the whirl-type suction hood, the pollutants are vacuumed away from the operators' breathing areas. The recovered dust from the filter system may automatically be diverted to the charging hopper, thus recirculating the vacuumed product directly back into the process and not accumulating it as disposable waste.
The charging hopper with deposit table and recirculation hopper for escaped dusts (both may be customized to meet customer needs and requirements) are integrated in a scaffold frame housing the whirl-type suction hood and integrated filter system.
Suited materials for the bag charging hopper are high-grade steel, aluminum or steel. The surface may be provided with the following finishes:
PICKLED AND PASSIVATED
GLASS-BEAD BLASTED
BRUSH-FINISHED
ELECTROPOLISHED
POWDER-COATED IN RAL OR SPECIAL COLORS
In the event of customer-specific modifications or customization to meet particular requirements and conditions, the dimensions and performance data of the bag charging hopper will vary from the ratings stated herein.
The purified air can directly be recirculated to the work area.
In the presence of hazardous materials not suited for recirculation of air, an alternative might be to install a permanent conduit.