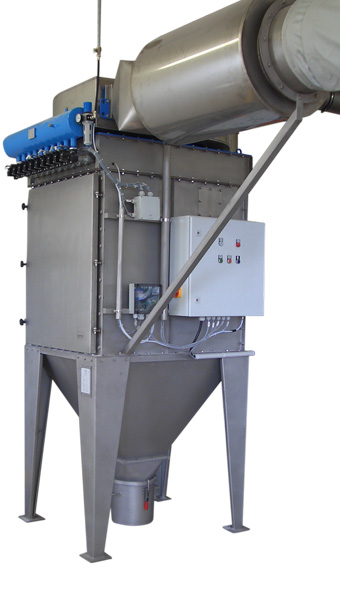 MOTEC vacuum filter systems are noted for the performance capability and individuality. It's hard to find another manufacturer capable of so accurately adapting his filter systems to customer requirements. Be it limitations in height owing to facility clearance or restricted access to the installation site owing to narrow passages, MOTEC®-filter systems will be exactly customized to meet your specific needs and requirements.
MOTEC® filters are designed to meet material specifics and local requirements. Where required, they are configured in strict compliance with ATEX guidelines.
We will design for you customized MOTEC® filter systems for a variety of applications such as cartridge filter, sinter filter, particle filters, lamellae filters, safety filters, pocket filters or aerosol separator for use in the fields of:
VOLUME FLOWS UP TO APPROX. 40.000 m³/h
DUST RECOVERY AT WORKSITES
POLLUTANT VACUUMING AT AND IN PRODUCTION MACHINERY
CONVERSION OF INSTALLED FILTER SYSTEMS TO OTHER FILTER MEDIA
MAINTENANCE, SERVICES AND REPAIR OF MOTEC®-FILTER SYSTEMS AND THIRD-PARTY BRANDS
RECIRCULATING-AIR OPERATION (SAVES HEATING COSTS)
REGENERATIVE HEAT RECOVERY
BUILDING FILTER SYSTEM IN HI-GRADE STEEL, POWDER-COATED STEEL, ALUMINUM OR PLASTIC
COMBINED SUPPLY AND EXHAUST AIR SYSTEMS
FILTER SYSTEMS FOR INSTALLATION IN AREAS EXPOSED TO EXPLOSION HAZARDS
On more than 500 m² of storage area, MOTEC® holds almost all consumable and spare parts available for just-in-time shipment all over the world.
Interaction as combined supply and exhaust air system
By interacting as combined supply and exhaust air system i.e. with pollutant recovery by our whirler-type suction hoods directly at the pollutant source and the enhanced staff safety feature by way of our air showers, the health and safety regulations are fully met. The combined supply and exhaust air system will also let operators work without fine dust mask in hazardous environments, which increases staff productive efficiency.
MOTEC® supply and exhaust air systems are noted for their volume flow dependent vacuum conduit dimensioning – the staggered profiles.
From pollutant recovery directly at the source over filtration all the way to regenerative heat recovery; from utilizing such heat recovery for inflow of supply air all the way to air showers at workstations – MOTEC® is your one-stop provider!
Schematic depiction of a comprehensive solution with:
1 Individual vacuuming units, also with whirl-type characteristics.
2 Volume flow dependent vacuum conduit dimensioning (staggered profiles).
3 Vacuum filter system designed to meet material specifics and local requirements.
4 Circulating supply air from filter system with summer/winter setting and low-impulse air outlets.
5 Fresh air intake with supply air unit and air shower with low discharge velocity.