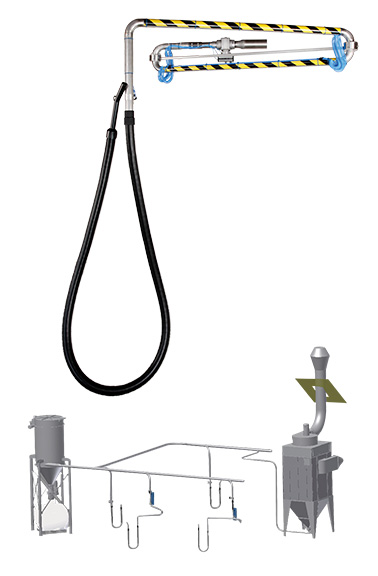 Expansion vacuum arms for rapid and efficient removal of deposit dusts
The expansion vacuum arm is an ideal complement for central dust removal systems. It may be integrated into existing systems both in terms of mechanics and control technology.
The expansive operating range of up to 360° (up to eight meters reach depending upon model) significantly facilitates cleaning the installation, considerably increases service life of production facilities and distinctly improves consistent quality.
Based upon uncomplicated and intuitive handling, production facilities may be cleaned between operational cycles without any additional work effort being required.
The unsupported ESA in an ideal application is positioned in the vicinity of one or multiple workstations and thus owing to its swiveling features covers the entire work zone – less vacuuming stations keeps costs at a minimum.
The ESA functions entirely without external vacuum hoses – the high degree of flexibility is achieved by way of two 360° swiveling air-channel joints (in the center and at the assembly plate).
The vacuuming function is activated simply by lifting the suction head from its cradle at the end of the ESA.
After the operator has finished using the device, a special MOTEC ball valve will automatically shut off the air flow when returning the suction tube to its cradle. This guarantees for efficient use of the rated suction capacity.
ADVANTAGES:
LARGE ACTION RANGE OF UP TO 360° (UP TO EIGHT METERS REACH DEPENDING ON MODEL)
SIGNIFICANTLY INCREASES SERVICE LIFE OF PRODUCTION FACILITIES
DISTINCTLY IMPROVES CONSISTENT QUALITY OF PRODUCTS
CONVENIENT INTUITIVE HANDLING
NO ATTRITION CAUSED BY DRAGGING SUCTION HOSES
AVOID TRIP HAZARDS ON FLOOR